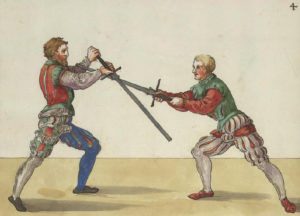 I recently had occasion to read some excerpts from Dietrich von Hildebrand's book Aesthetics. In this book, he speaks about the role of beauty in the formation of a person. At one point he quotes Ernest Hello in saying, "The mediocre person has only one passion, namely hatred of the beautiful,"1 which, of course, got me to thinking about martial arts in general, and specifically about MARE (Martial Arts of Renaissance Europe).
The forms and movements of martial arts certainly cannot be directly compared with the higher order of beauty that comes from God's unique creative power. However, they can be roughly compared with the lower order of beauty as created by human beings. The motions and movements found in the forms of different martial arts contain a certain kind of beauty similar to dance, though with a purpose as different as night and day: fine arts versus self-defense. But like dance, the precise control of the body and its motions while moving from one position to the next in a fluid manner has a beauty of its own. When outside of the area of combat, transitioning from defense to offense and back again in motions that are at once both sweeping and efficient can be said to be similar to a dance form.
Mr. von Hildebrand states, "At the sight of the truly beautiful we are freed from the tension that urges us on toward some immediate practical goal. We become contemplative, and this is immensely valuable."2 When one martial artist observes another performing a well-executed flouryshe3, the underlying beauty of unscripted set of strikes, blocks, steps, and transitions does that exact thing. We are caught up in the fluidity of motion, the control, and an awareness both of self, surroundings, as well as others. When we then turn this contemplation of the art into a deeper contemplation on the mysteries of God and His creation, we have gone past the practical goal and entered a deeper layer of our journey in the martial art. Building the skill of contemplation is part of the journey in the Order of Lepanto because we do not study MARE simply as a tool of defense, but rather, as a tool to improve our spiritual lives.
Dietrich von Hildebrand also goes on to say that "[b]eauty is the archenemy of mediocrity,"4 which is also true of the martial arts. The mediocre practitioner strikes with too much or too little power. His timing is off. There is little to no fluidity of his motions with the sword and his body. Now obviously, we all begin at this point for as a physical endeavor martial arts takes practice. However, our goal should always be towards an unattainable (in this life) perfection. As we work closer and closer to that goal, beauty is revealed. To the man that is satisfied with mediocrity, there is neither beauty nor success in his art. Without that fluidity, that beauty, the ability to execute self-defense movements are limited.
We are all being called to grow closer to God and His beauty through whatever gifts and talents He has given us. Be sure to look for beauty and eschew mediocrity in all its forms.
Ernest Hello, L'Homme (Paris: Perrin, 1936), in the chapter entitled "L'homme mediocre," 59–60
Dietrich von Hildebrand, Aesthetics Volume 1 (Steubenville: Hildebrand Project, 2016). Page 5
In MARE a flouryshe is an unscripted combination of strikes, cuts, blocks, steps and transitions.
Dietrich von Hildebrand, Aesthetics Volume 1 (Steubenville: Hildebrand Project, 2016). Page 6