I have heard many people talk about the full armor of God as found in Ephesians 6:13-17:
13 Ther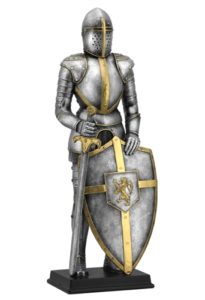 efore take unto you the armour of God, that you may be able to resist in the evil day, and to stand in all things perfect.
14 Stand therefore, having your loins girt about with truth, and having on the breastplate of justice,
15 And your feet shod with the preparation of the gospel of peace:
16 In all things taking the shield of faith, wherewith you may be able to extinguish all the fiery darts of the most wicked one.
17 And take unto you the helmet of salvation, and the sword of the Spirit (which is the word of God).
These talks usually focus on the sword, the shield, and the breastplate with barely a mention (if at all) about the feet. I had not even noticed it myself until recently.
Members of the Order of Lepanto are dedicated to practicing and learning the martial arts of the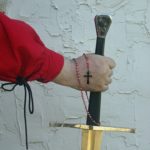 Medieval and Renaissance Knights and then using these skills to better understand certain aspects of spiritual warfare. You see, the men who wrote about spiritual combat were well-versed in the use of the sword and shield, and they wrote to people who also had a similar understanding. Although this expertise has mostly died out, it is still possible to learn these skills today, and armed with the knowledge of the intricacies of these weapons in their historical context, we can come to a greater understanding of the underlying, analogous spiritual lessons.
As a martial artist, one of the things we learn about is the importance of your feet. While you might understand this in unarmed combat, it remains true even when using a sword. No person will ever be a good martial artist without the right footwork. We learn to keep our stance wide for stability without even thinking about, to avoid crossing our legs while stepping, and to place our feet in ways to improve our balance. The 14th century sword master Johannes Liechtenauer wrote that "this is the basic tenet of swordsmanship: that a man is always in motion," and that motion requires good balance and proper placement of feet for stability. Beyond the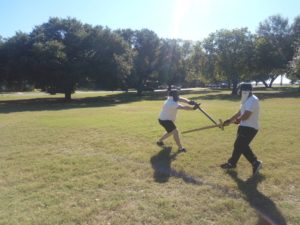 Martial Arts of Renaissance Europe (MARE), which is our group's specific martial art, you see a similar understanding in other disciplines as well. Sifu Ted Wong from the New York Martial Arts Academy writes, "Footwork allows us to do 3 things: makes us hit harder, puts us in a position to hit, and gets us out of danger." Even Bruce Lee spoke about the importance of your feet in combat: "The essence of fighting is the art of moving."
Here is where our group's mission comes into focus. We take the knowledge that we have learned about martial arts (footwork in this case), gained through real world practice, and then use it to interpret spiritual warfare writings. So, let's do this together…
First, we'll reread this selection from Ephesians, "And your feet shod with the preparation of the gospel of peace," and then we'll apply the lessons from MARE. If the core of all martial arts combat is movement, which is obviously tied intrinsically to your feet, then the same can be said about spiritual combat. Saint Paul is saying here that as your feet are the source of successful movement in combat, so too your feet (shod in peace) are the source of your success in spiritual combat. Therefore, we can conclude that peace must both precede your movements and flow within them in spiritual warfare. Peace puts you in a position to strike at the enemy, peace will allow you to hit Satan harder, and peace is what keeps us out of spiritual danger. Remaining peaceful in spiritual and physical combat is the key to success in both.
Now that we know that our feet are important and need to be shod in peace, we must ask ourselves: just what is peace? Peace, like love, is a complex subject so stay tuned and we'll talk about that in a future article…
Deo Gratias!