The most obvious short-term benefit of engaging in a martial art is an increased ability to defend oneself if needed. Beyond that benefit, it is fairly common knowledge that a martial arts program can help people in their physical fitness. Some of these benefits are:
Strengthen muscles – As a person ages muscles begin to age too, possibly causing the loss of some muscle density and strength. This is why it is important to keep muscles in use and to work on strengthening them. Martial arts activities require a person's muscles to be in constant use, helping them to stay strong. The desire for better performance in a martial art will often drive people to begin other types of physical conditioning, resulting in a faster increase in benefits. In addition to strength, you also increase your agility, balance and flexibility.
 Help you lose weight – Practicing martial arts as an adult requires you to remain active, which will keep you burning the calories and losing weight. Additionally, as previously discussed, you will be building muscle mass, which will also help improve your metabolism and allow your body to burn more calories at a rapid pace.
Relieve stress – It's easy for us to feel overwhelmed and stressed out. Between work, kids, and general household duties, it seems like the worries never end. The exercise and concentration involved in the practice of martial arts allows you to be able to blow off some steam and relieve some of life's stresses in a healthy and efficient manner.
In addition the obvious physical benefits, there are mental benefits too:
Improve confidence – There is a definite increase in confidence for people who are comfortable using self-defense techniques from martial arts. If you ever find yourself in a dangerous situation, you will be better able to manage your emotions and not be afraid. Knowing that you have the skills necessary to protect yourself from harm will help you to be confident and act in a more effective manner, even during the most troubling of times.
Improve concentration – Martial arts of any kind requires great skill and concentration. Practitioners learn to act fast in order to defend against attacks. This will not only help you to improve your reflexes, but your concentration, as well. You will be required to focus with intensity on details and anticipate your opponent's next move before they've even blinked.
Listed above are the usual benefits anyone can expect from any credible martial arts program, regardless of its focus. However, a well-tailored program that includes a Catholic faith-based perspective has additional benefits to your vocation and your spiritual life:
Deepen your faith –Our group reads, studies and discusses writings from saints and other significant, orthodox works from the Medieval and Renaissance. We are learning from the authors and from each in other about spiritual warfare and how to apply the lessons of European martial arts to that spiritual war. We also actively engage in group prayer and stress the importance of personal and family prayer time each day. In combining faith and sparring, we build a bond of brotherhood between the men in our groups. This bond allows us to offer each other fraternal correction and support from a position of trust and respect. We truly help each other to be better men.
Be a better husband – As a husband, you are the spiritual leader of your family. Good leadership requires courage, confidence, strength tempered by faith, wisdom, caring, and love. The martial arts that is practiced in the Order of Lepanto requires that men learn not only how to use a sword, but also how to control strikes so as not to injure your partner. The control exhibited in while being influenced by adrenaline, helps you to control yourself in other areas of life and to care about the well-being of others. The study of medieval and renaissance fighting masters and great saints increases your knowledge of the art and your faith; while working on these skills with your fellow practitioners puts that knowledge into action, forming the building blocks of wisdom. Finally, there is a concept of being "in the moment" or as the German fight masters called it "In Des" – this is the ability to take what you have learned and practiced and apply it in the 1 or 2 seconds you have to react in a sparring match (or real combat). Being able to do this will help you to better respond to the needs of your spouse, family, and faith community.
Be a better father – The improved physical conditioning of a student of martial arts comes in handy as a father, when pressed into to duty carrying children, their paraphernalia, or both. Your improved health and vitality will be a treasure that you can pass on to your children in habit and by your presence in their lives for as long as possible. As with being a husband the skills of caring while being strong and being able to act in the moment will be a tremendous help to you. Besides, you will love the look on the boy's face who comes over to date your teenage daughter and you inform him that you are a full-contact sword fighter!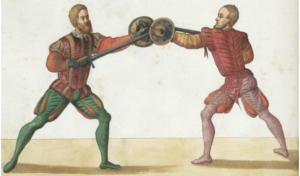 The participation in martial arts, while not for every man, offers great benefits to you in your physical, metal, and spiritual well-being. The Order of Lepanto is on a mission to get men involved and connected with each other and the Church, while building their courage and confidence.